For those who would like to buy a house in Puglia, I give here on Houses With Possibilities P.2 some recent villas, lamias and trulli that are now for sale and that are a step ahead of others because there is added value to realize, the price is good, a fantastic view or there are other advantages. In short: Houses with possibilities P.2! For the sake of completeness: I am not a real estate agent and do not have any of these houses for sale. I am your Property Finder and help you find and buy your dream home from the beginning to the end.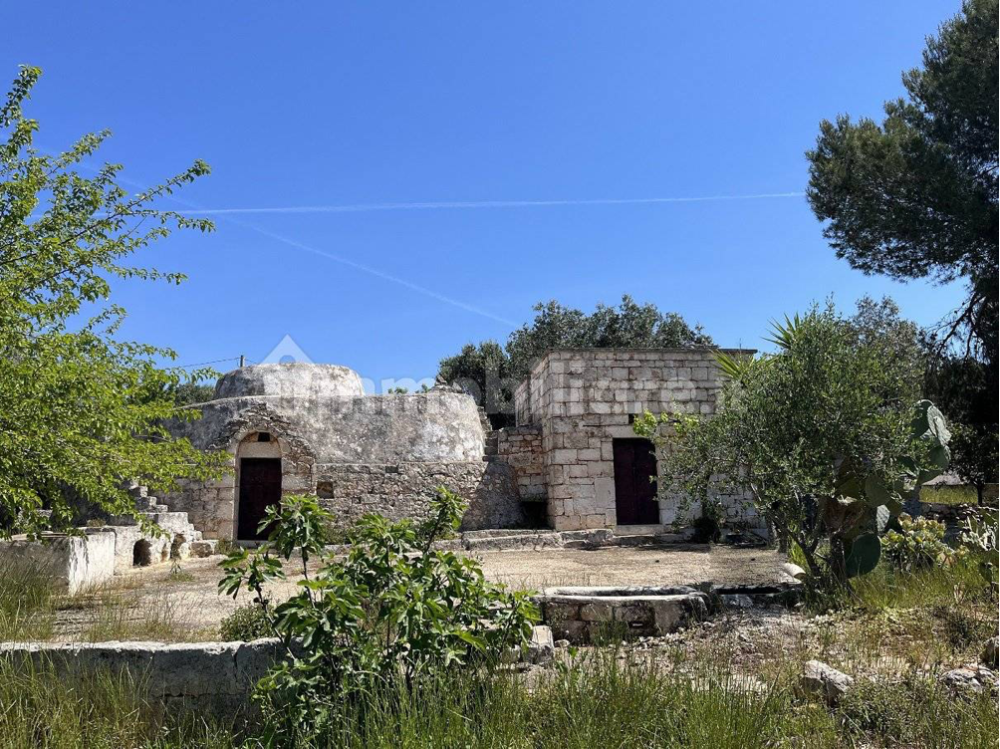 A trullo and a lamia. The asking price is 150K and there is 135 M2 of living space there are 2 bedrooms. An enchanting driveway largely bordered by centuries-old olive trees and fruit trees. The accommodation where you come via your own private road in the typical countryside of Ostuni, along the provincial road that connects it with San Michele Salentino. The land covers about 3 Ha. and is bordered by typical dry stone walls and is mainly cultivated with olive trees. Both structures are in good static and structural condition and have retained the rustic and original look that characterizes them over the years. An excellent solution to create a beautiful and suggestive tourist context or just to live immersed in nature, as it is a very quiet area surrounded by greenery. The basis is there, but the necessary work will have to be done. There is something very beautiful to be made of this and extensions and a swimming pool are certainly possible, also, given the amount of land.
A very sweet house with an asking price of 125K and 109 M2 of living space. These trulli and lamia located in Ostuni consist of a living-room with fireplace, bedroom and bathroom; adjoining another bedroom-room with utility room, bathroom, kitchen and cupboard. Inde- pendent access. Paved yard at the front and 8000 M2 of land.  Heat pump and water tank.

A group of trulli with 4 coni, 2 niches and 2 lamiettes: 130 M2 and a beautiful view. Unspoilt hilly area.  Asking price 130 K. Trulli preserved in an original way with millstone.
The basis of this is very good, but it will have to be refurbished. The asking price is 170K  and there is 180 M2 of living space. At 4 km. of Ceglie Messapica (Br) a fantastic real estate complex consisting of a Trullo with 4 cones, one of which is central and three niches, a lamia of about 45 M2 consisting of 3 rooms with 2 niches and bathroom, characterized by barrel vaults.  Another building of 30 M2 with a single compartment and a local oven of about 12 M2. The property is surrounded by 2 Ha. land with olive and fruit trees. The amount  of buildings that are allowed is related to the amount of land, so there is certainly the possibility of expansion and building a swimming pool here.
For those who occasionally want to come to Puglia and still want to have their own place to stay, but also a great property to rent out: Living area 30 M2 asking price 39 K . Located in the beautiful historic center of the White City, in one of the many special alleys, a stone studio on the mezzanine and completely renovated. The property consists of loft with barrel vaults, an alcove with a brick kitchenette and induction hob and a bathroom with shower. A stone's throw from the cathedral.
Asking price 138K trulli en lamia living area 123 M2 A villa with adjoining trullo and outbuilding, elegant and unique of its kind, it is already habitable and is located in a quiet and private area. A driveway, decorated with colorful flower beds leads to the large cobblestone yard. The building, framed by the porch, consists of a large kitchen-compartment with fireplace, bathroom with shower and 2 bedrooms. The hallway connects the villa with the trullo which houses a large room. The annexe consists of a large room and a kitchenette with an oven. The land of about 2 ha. consists of ornamental plants, olive trees, including some centuries-old, and almond trees. For the water supply, this villa has an artesian well and 2 storage reservoirs for water (probably one for rainwater and one for drinking water.  In the bathroom and bedroom red tiles if you do not like them, you can always replace them or paint them in a different color. Given the amount of land, a swimming pool will certainly be possible.
Asking price 155K and 300 M2. living area: this elevated villa in the direction of Francavilla Fontana about 5 km from Ostuni. The property is located in a very beautiful area, surrounded by the greenery of the countryside and this allows you to enjoy complete privacy. Excellent external appurtenances: the entrance is preceded by a large yard enriched by the presence of an external oven. The villa is completely surrounded by a large veranda ideal for relaxation. Inside it consists of a comfortable living room with kitchenette, 3 bedrooms and a bathroom with shower. There is also a storage room of about 150 M2 with excellent transformation value; next to each other there is an outbuilding with dining area and kitchenette, a bedroom and a full bathroom. The presence of 2 reservoirs and an artesian well completes the whole; there is also a heating and air conditioning system. 6,500 M2 of land planted with about 80 olive trees and various fruit trees It will have to be refurbished, especially cosmetically and that large storage room may be transformed into another destination. In short, a large volume for those who want to create added value.
 This trullo with lamia in the countryside of Ceglie Messapica has a living area of 120 M2. Asking price 150K.  Trulli consisting of 4 cones with small adjoining villa. 1 or 2 bedrooms in the trulli, which are in good condition.  The villa consists of a living and dining room, 1 bedroom and a bathroom. An outdoor oven, a veranda and a large yard with chianche.  1.5 Ha. land. Swimming pool possible?
Now again a very affordable house with 2 bedrooms, an area of 50 M2 and an asking price of 48 K: In the vicinity of the Tsunami water park a villa for sale, surrounded by a piece of land of about 2,000 M2 It is composed of kitchen, 2 bedrooms and bathroom.
Isn't there some space to add here by removing the hallway and therefore enlarging one bedroom and then positioning the bathroom between the bedrooms or making a small extension for this?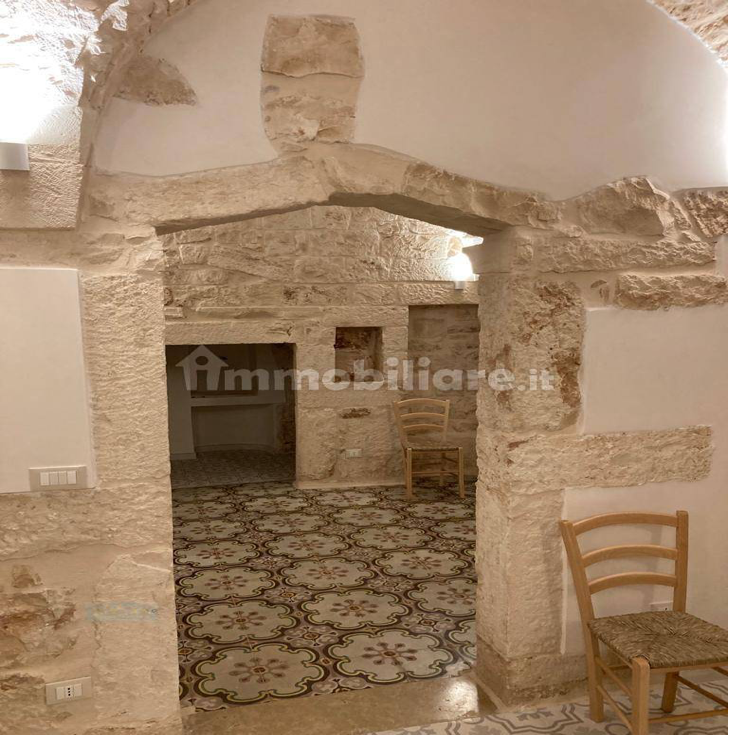 Some people like Puglia, but not necessarily living in the countryside, they prefer to be in an inhabited neighborhood: In Ceglie Messapica a house with a living space of 93 M2 for 149K. This house has already been very tastefully refurbished: In Puglia, in the heart of the historic center of Ceglie Messapica, a few steps from the main square, "Piazza Plebiscito", for sale is an old finely restored house on the mezzanine floor with double entrance and possibility of splitting, consisting of living room, double kitchen, 2 bedrooms, 2 bathrooms,  methane heating, fireplace.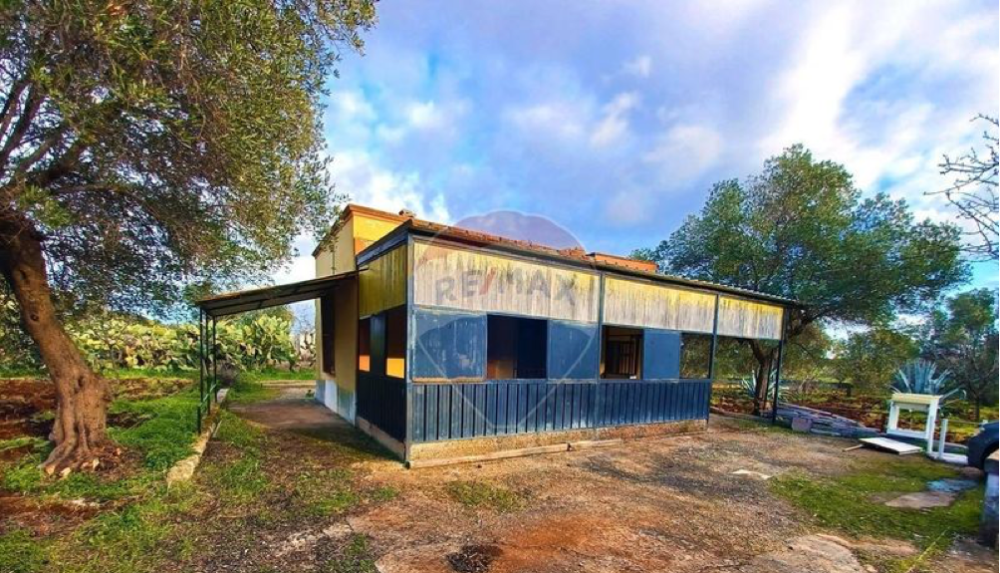 This house clearly needs to be refurbished, but that is what the asking price of 33K is for. The living space is 48 M2. In San Vito dei Normanni 2 km from the city, a property consisting of 2 rooms and accessories and about 4000 M2 of land with olive grove. The property is equipped with an artesian well. So your own water and that is a big advantage!
In Lizzanello, just south of Lecce for sale a detached house with spacious rooms, an asking price of only 40K and a living  area of 130 M2: ground floor a large entrance / living room with fireplace, dining room, kitchen, bathroom; on the first floor 2 bedrooms and a bathroom. A general renovation is needed, but nevertheless a good price.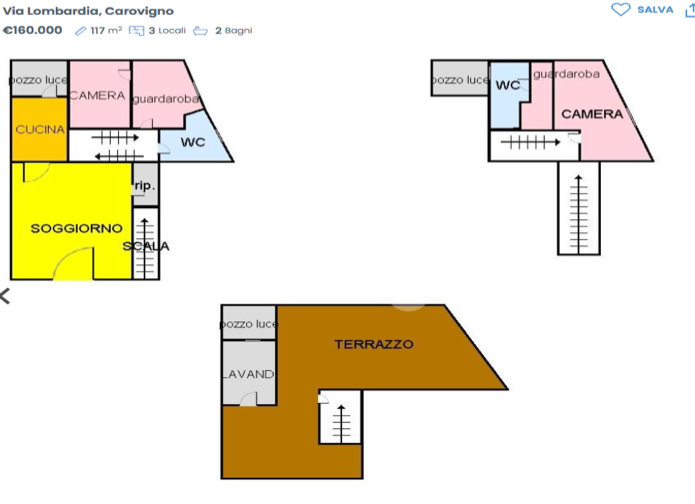 Carovigno: this detached house with an asking price of 160K has already been completely renovated and furnished. living area 117 M2. Beautiful, youthful and sparkling, Large and bright open space storage space, kitchen, a small vegetable garden, storage room and access to the terrace; On the upper intermediate floor a bedroom with bath- room; in the basement, 2 connecting rooms and a bathroom. Added value a beautiful terrace to rest and a laundry room. Pellet stove for heating, latest generation electric boiler for hot water. Luxury finishes.

A rural detached house in Locorotondo with a magnificent view over the Itrie Valley One asks 70K and it is 140 M2 in size. Not bad at all for that price! Some modernization needed, but especially cosmetic. Rural with a suggestive panoramic view of the canale di Pirro and thus not far from the sea, distributed over 2 floors with storage and grounds of about 800M2. The property is located in an area that is inhabited all year round.  The location is strategic between sea and hills and is 17 km from the sea (Savelletri – Capitolo), 10 km from Alberobello, 8 km from Fasano, 6 km from Locorotondo, 60 km from Bari. The living unit consists on the first floor of a living room with kitchen, hall, a large bedroom and a bathroom; on the ground floor by 2 large rooms (currently storage) with garden. If the rooms on the BG want to go from destination storage to bedroom, a geometra must be engaged and fees paid. If it is only for personal use, this is not necessarily necessary.

For sale in Ceglie Messapica an antique house formed by trulli and lamie.  Asking price € 110.000,00 and 88 M2 living space. Internally we find an entrance hall, living room, small kitchenette, hall, bedroom and bathroom. Adjacent to the house further trullo used as storage. Externally of interest we find an extra storage room for the house and a present yard in chianche. Finally, the property is surrounded by beautiful panoramic grounds of 12,000M2.  Mainly planted with olive trees and various fruit trees. Here is probably an extra bedroom to realize in the trulli.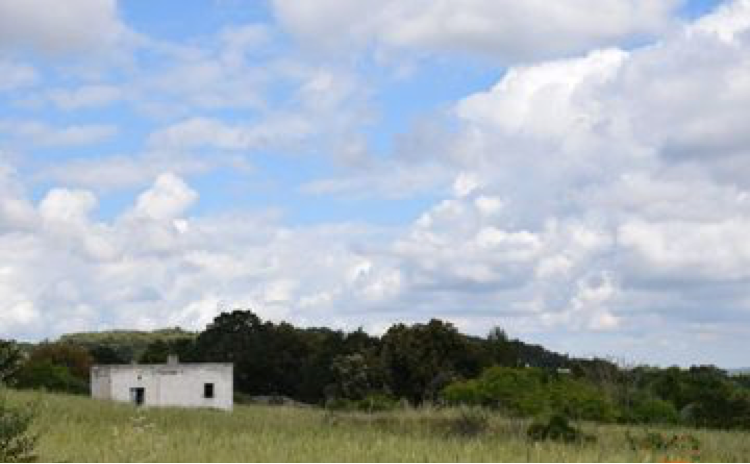 Country house in Martina Franca Towards Ceglie Messapica, about 5 km from the center of Martina Franca, rustic building on a large piece of surrounding land. The asking price is 20K. The building, which covers an area of 30 m², is in a very poor state of conservation. Land of regular shape and flat position extended for 5440 m², bordered by drier walls. Possibility of expansion / new construction.  Inhabited area served by aqueduct. There are 2 possibilities: refurbishment and expansion or new construction. In the latter case, of course, we have to consider what the possibilities are.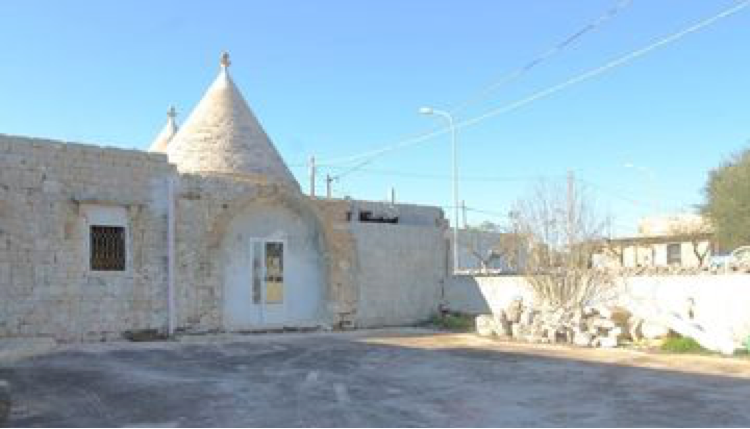 Here you have to let your imagination work. It is large, 196 M2 and that with an asking price of only 75K, but there is still a lot of work to do. At the moment there is still a shell in which walls and floors etc. all still have to be installed. I do think it can be very beautiful, otherwise it was not listed here. Martina Franca: 7 km from the center is for sale in a quiet area near the main services complex of trulli to be completely restored. The structure located in a totally inhabited area is divided as follows: 3 trulli with independent entrance and, adjacent to a lamia with typical barrel vaults. The property includes a plot of 1000 M2.Of the next one you would say at the first moment that does not look good! But: there is a nice view and inside it really looks better:
Click here for Page 3 of Houses With Possibilities.
If you know more, please send us the contact form below: